Use Your Human Design Chart to Help You Stay Healthy and Vibrant
There is no shortage of theories and advice for addressing health issues and challenges, and for attempting to maximize our well-being.
Here is a very different approach:  use your Human Design Chart!
Click here to read the Introduction to this article series and Part 1 about the Five Types
Click here to read Part 3 about Significant Gates and Channels
Part 2: The Nine Centers
In this second part of the three-part series of articles about using Human Design to improve our well-being, we look specifically at the nine Energy Centers and how they affect us. (You'll need your Human Design Chart to see your Energy Centers.)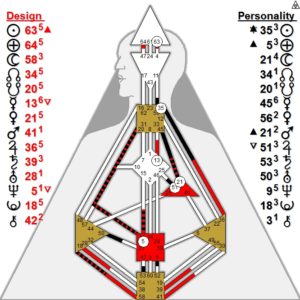 There are nine geometric shapes (triangles and squares) within the large triangle of your chart's bodygraph, which is on the right side of most charts. These are your energy centers. Each center carries and manages a different frequency of energy that we experience as humans.
Usually, some of your centers will be colored in and some will be white. A few people have all nine centers colored in. These people are designed to have a large impact on rest of us. Fewer than 1% of the population has all nine centers white. They are called Reflector Types.
The centers that are colored in are called Defined or fixed. Having a center defined means that you have a specific and consistent way of processing and experiencing that kind of energy in your life. Your Defined Centers are your strengths.
The white centers are called Open or undefined. When you have a center Open it means that you don't have a fixed or consistent way of processing and experiencing that particular energy.
Open centers are our greatest teachers and deepest source of wisdom. An Open center takes in and amplifies that center's specific energy. So our experience and understanding of the energy of that Open center is unlimited.
The Challenges of Open Centers
Open Centers present great opportunities for us but also great challenges. Here is where we are "conditioned" (deeply influenced) by those around us, like parents, siblings, friends, parents, teachers, clergy, etc., as well as by our society's "norms" and expectations.
Open Centers are where we experience and carry our deepest pain because we think those energies coming IN to us are "ours", i.e. something we ourselves have generated. But they are not.
This can be very confusing because those energies coming into our Open Centers change depending on whom we are with. We may question our value, our lovability, our commitment, or our resolve (or even our sanity!) because we seem to be so inconsistent in those Open areas of our lives.
This conditioning, which comes from outside of us, pulls us away from Who We Truly Are and from our Authentic Expression of ourselves. This is deeply painful, however we often are not aware that the conditioning we receive in our Open Centers is the source of this pain.
We can burn out from holding on to these Open Center energies, which our bodies are not designed to hold. Plus, two of the Open Centers (the Head at the top of the Chart, and the Root at the bottom of the Chart) are pressure centers. You'll feel pressure to figure things out (Head), and pressure to get things done (Root) when those Centers are Open (white) in your chart. All of this can add to the stress and confusion you may already be feeling.
The number one cause of dis-ease and illness may turn out to be living a life that does not align with or express our Authentic Self. Our Authentic Self IS our Human Design "definition" and the energetic structure we were born with. (For more information, see article on the Not Self.)
How Your Open Centers Affect Your Health
There are predictable behavior patterns and coping strategies associated with each Open Center. These are the "low" expressions of those energies. The brief descriptions and advice below will help you express the higher qualities and gain the wisdom of these energies, while avoiding the potential pain and any dis-ease associated with them.
Understanding YOUR Open Centers will help you be happier, more balanced, and more resilient in your life. Knowing the Open Centers of OTHERS will help you interact with them more effectively.
So, check your chart and the charts of family and friends as you read about each Open Center.
Remember, only a Center that is WHITE on your chart is OPEN for you
HEAD CENTER – top triangle
Center for inspiration and ideas; a pressure Center
Open Head:  You take in and amplify ideas, inspirations, and big questions from those who have Defined (colored in) Head Centers around you. You may feel scattered, overwhelmed, and/or under pressure to figure out how to implement all those ideas.
ADVICE:  Use YOUR Strategy to choose which ideas and inspirations are correct for YOU to pursue. Being selective will help you develop wisdom about what is truly inspiring and what is worth pursuing, and help you avoid the frustration and stress of pursuing ideas that are not correct for you.
AJNA CENTER – next triangle down
Center for concrete thinking, analysis, and data storage
Open Ajna:  You have unlimited ways to think about and analyze situations and information. You are open-minded by design, but not designed for data storage. You can have difficulty making decisions or being certain about things.
ADVICE:  Recognize your gift to see and analyze many perspectives about any situation. Don't seek certainty; stay fluid. Make lists to help you remember things and use your Strategy to make decisions and avoid overwhelm.
THROAT CENTER – top square (at throat level, just below Ajna)
Center for communication energy and manifestation of ideas into form and action

Open Throat:  You amplify communication energy and can modulate your voice and delivery to best suit your audience. You need attention/recognition from others to access and manifest the other energies in your Chart. You can have difficulty feeling heard, and may be extremely talkative or extremely quiet (or a combination of both extremes!).
ADVICE:  Recognize your genuine need for attention and seek it in appropriate ways. Wait for the right opportunities to speak. Don't push your Throat energy (i.e., your opinions, advice, criticisms, demands, chatter, etc.) at others without first being asked or recognized. Incorrect use of Throat energy affects the metabolism through the Thyroid gland.
IDENTITY CENTER – diamond shape in middle of chart
Center for sense of self, direction in life, love, and "right place"
Open Identity:  You have a mutable sense of self, which changes according to whom you're with (because you take in and amplify others' identities). You are here to receive love and to know others deeply. You may have unclear direction or multiple directions in life.
ADVICE:  Let go of trying to "know" or "define" yourself and enjoy the flexible nature of your identity and your direction in life. Only be with people and in places that truly feel good to you. Be reassured about your lovability, support your self-esteem, and avoid the pressure to "find yourself."
WILL CENTER – small triangle below-right of Identity Center (also called Heart or Ego Center)
Center for willpower energy, business, material values, and generating and managing physical resources
Open Will:  You do not possess consistent willpower so it's hard for you to force yourself to do things you aren't compelled to do. You may also have trouble correctly valuing things, people, and yourself.
ADVICE:  Don't make promises, because you don't have the willpower to ensure that you honor them. Be willing to go with the flow. Use your Strategy to correctly enter commitments. Practice valuing yourself and others, and ensure that you charge an appropriate rate for your time or services. Don't push with Will Power you don't have… you'll burn out and exhaust yourself. Make time to REST!
SOLAR PLEXUS CENTER – lower right triangle (as YOU view it)
Center for emotional energy
Open Solar Plexus:  You take in and amplify the emotional energy of Defined Solar Plexus people around you, so you feel THEIR emotions more intensely than they feel them. You typically want to keep everyone happy and not "rock the boat."
ADVICE: Recognize that the emotional highs and lows you feel are not yours then let them go. Learn to speak your truth without fear of emotional reactions from others. Experiment with the full range of human emotions flowing through you and then be selective about the ones you choose to experience. This also helps to avoid emotional overwhelm which can "fry your circuits." You need alone time to discharge emotional energy from others. This Open Center can be associated with depression, diabetes, emotional eating, and weight issues.
SACRAL CENTER – square below diamond-shaped Identity Center
Center for work force and life force energy
Open Sacral:  You do NOT have sustainable energy, so don't try to keep up with Defined Sacrals (who do). You take in and amplify their Sacral energy, so you can work harder than any of them — but only for short periods of time. Then you need time to rest and recover.
ADVICE:  Avoid jobs that demand sustained physical energy and long-term commitment. Take naps when you're tired and "manage" your energy. You're a sprinter, not a marathon runner (metaphorically speaking). It's correct for you to have few or no children, as they require a lot of sustainable energy! Recognize that sometimes you don't know "when enough is enough" and learn when to stop. It's better to avoid burnout than have to recover from it.
ROOT CENTER – bottom square
Center for adrenaline energy — a pressure Center
Open Root:  You feel pressure (often self-imposed) to get things done, and you have trouble relaxing if your "To Do" list is still long (which it always is). You amplify adrenaline energy from Defined Root Centers, which helps you be productive but possibly at the expense of quality or thoroughness.
ADVICE:  Recognize that the pressure you're feeling is just energy and choose to relax and be "free" even when everything on your list has not been done. Use others' adrenaline energy wisely to get things done and consciously release the pressure that you feel so you can operate without excessive pressure and stress. Even self-imposed pressure causes very real stress effects on your body and mind, including adrenal burnout and anxiety disorders.
SPLEEN CENTER – lower left triangle (as YOU view it)
Center for intuition, survival, time consciousness, and the immune system
Open Spleen:  You are intuitive, but receive that energy in inconsistent ways. You are likely to be time-challenged and may be chronically late, letting time "get away from you." You are sensitive to slight changes and symptoms from your immune system. You may be paralyzed by various fears, and probably have issues knowing when to let go of things.
ADVICE:  Learn to trust your intuition and pay attention to signals from your immune system. Develop systems that keep you on time and learn to let go of things that no longer serve you, including clutter, relationships, emotions, grudges, etc. Recognize you are sensitive to others (and may even be medically empathic). Push through Splenic fears that keep you stuck.
In Part 3 of this article we'll look at the impact of some specific Gates and Channels on our health.
I welcome your comments!