(posted 2018/09/17)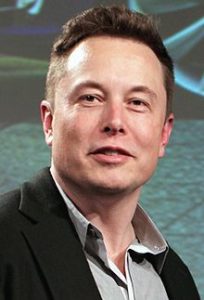 When I see super successful people in the news I often wonder what makes them tick, and specifically if there is something in their Human Design chart that makes them different from you and me.
Elon Musk is one of those people–a successful billionaire entrepreneur running multiple companies who is actively (even aggressively) trying to move the world toward the future with luxury electric cars and ambitious plans for commercial space flight and colonizing Mars!
BACKGROUND
(this section excerpted from https://en.wikipedia.org/wiki/Elon_Musk)
Elon Reeve Musk, Fellow of the Royal Society, is a business magnate and investor. He holds South African, Canadian, and U.S. citizenship and is the founder, CEO, and lead designer of SpaceX; co-founder, CEO, and product architect of Tesla, Inc.; co-founder and CEO of Neuralink; and co-founder of PayPal. In December 2016, he was ranked 21st on the Forbes list of The World's Most Powerful People. As of August 2018, he has a net worth of $20.2 billion and is listed by Forbes as the 46th-richest person in the world.
Born in Pretoria, South Africa, Musk taught himself computer programming at the age of 10. He moved to Canada when he was 17 to attend Queen's University. He transferred to the University of Pennsylvania two years later, where he received an economics degree from the Wharton School and a degree in physics from the College of Arts and Sciences. He began a Ph.D. in applied physics and material sciences at Stanford University in 1995 but dropped out after two days to pursue an entrepreneurial career. He subsequently co-founded Zip2, a web software company, which was acquired by Compaq for $340 million in 1999. Musk then founded X.com, an online bank. It merged with Confinity in 2000 and became PayPal, which was bought by eBay for $1.5 billion in October 2002.
In May 2002, Musk founded SpaceX, an aerospace manufacturer and space transport services company, of which he is CEO and lead designer. He helped fund Tesla, Inc., an electric vehicle and solar panel manufacturer, in 2003, and became its CEO and product architect. In 2006, he inspired the creation of SolarCity, a solar energy services company that is now a subsidiary of Tesla, and operates as its chairman. In 2015, Musk co-founded OpenAI, a nonprofit research company that aims to promote friendly artificial intelligence. In July 2016, he co-founded Neuralink, a neurotechnology company focused on developing brain–computer interfaces, and is its CEO. In December 2016, Musk founded The Boring Company, an infrastructure and tunnel-construction company.
In addition to his primary business pursuits, Musk has envisioned a high-speed transportation system known as the Hyperloop, and has proposed a vertical take-off and landing supersonic jet electric aircraft with electric fan propulsion, known as the Musk electric jet. Musk has stated that the goals of SpaceX, Tesla, and SolarCity revolve around his vision to change the world and humanity. His goals include reducing global warming through sustainable energy production and consumption and reducing the "risk of human extinction" by establishing a human colony on Mars.
(this section written by me, based on Dawson Church's new book Mind to Matter: The Astonishing Science of How Your Brain Creates Material Reality*)
I was fascinated recently to read Dawson Church's view of Elon Musk, who calls him "one person whose personal vision has reshaped entire industries."  Dawson sums up his example of Musk as someone who successfully uses his mind to alter reality by saying, "Musk's mind-set is relentlessly positive, whatever the challenge.  His mind has been the source of multiple game-changing material realities."
*I am an Amazon Associate, so I may receive commission on purchases of this book. I only recommend books that I believe are of excellent quality and usefulness. I am loving Dawson's new book!

CHART & CHART REVIEW

Below is Elon's Human Design chart and my audio recording of a quick overview of his chart. The recording is not intended to be a thorough Reading –I could talk for several hours about a chart! I've simply pulled key aspects of this chart that really illuminate why he is the way he is.
Click the play arrow to listen now, or click the download link to listen later. Enjoy!
Right CLICK HERE to download the MP3
Comments are welcome!