(posted 2014/01/30)
Here is a brief look at a celebrity's Human Design chart using just a few of many aspects and layers of a chart. Our purpose here is to give you just a partial glimpse, through Human Design, into this person's energy dynamics.
John F. Kennedy & Jacqueline Kennedy
JFK Birth: May 29, 1917 at 3:00pm in Brookline, Massachusetts
Death: November 22, 1963 at 12:30pm in Dallas, Texas
Jackie Birth: July 28, 1929 at 2:30pm in Southampton, New York
Death: May 19, 1994 in New York, New York
Background
John F. Kennedy
See my Celebrity Chart article and background about him here.
Jackie Kennedy
Here is an excellent brief biography of Jackie.
Their Relationship
Jackie, a young socialite from a privileged family, and JFK (Jack), an up-and-coming politician from a privileged family, ran in the same social circles in the early 1950's. They met officially in mid-1952 and became more serious after Jack won the election to a US Senate seat that November.
Their wedding in Sept. 1953 was considered the social event of the season, with over 1200 at the reception. Despite their glamorous image, their relationship was beset with various struggles including his serious health problems and two spinal surgeries that were nearly fatal for him. She had a miscarriage and a stillbirth in 1955 and 1956. Caroline was born in 1957. Jackie became pregnant again in 1960 just after Jack began his campaign for president so she was not able to play the active role in his campaign they had both anticipated. That pregnancy and his campaign were successful, and they became one of the youngest couples to live in the White House.
As First Lady, Jackie was elegant, popular, and handled the new spotlight with grace and charm. She redecorated the White House, organized White House social events, and was skilled at interacting with foreign dignitaries (she spoke several languages fluently).
They were both private people, so the intense public nature of their relationship and family issues was probably difficult for them, and their marriage was not always smooth. There were alleged affairs on both sides, though there was also a powerful commitment to each other and some say they were considering having more children just before Jack's assassination in 1963.
Their Personal Charts and Relationship Composite Chart
Let's explore what their charts tell us about their energetic relationship and how it affected their behaviors.
Jackie Kennedy's chart                                 John F. Kennedy's chart
4/6 Manifesting Generator                            3/5 Projector
Jackie & JFK Composite Chart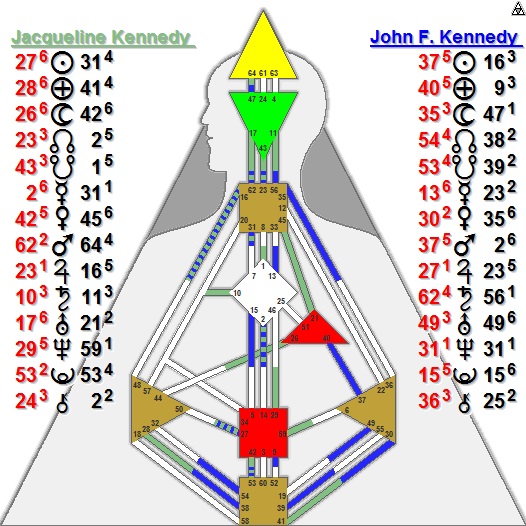 I've recorded my comments about their charts and their relationship composite. Simply click the arrow to listen, or download to listen later.
I welcome your comments!